An Opportunity for INTERNS & VOLUNTEERS At MCDS, Chennai
Montfort Community Development Society, MCDS is a much sought after Centre for Block Placement and Concurrent Field Work for more than twenty years. The following are some of the establishments that send candidates for Block Placement and Concurrent Field Work from various Post Graduates and Researchers from all over India and from abroad. The following are some of the colleges that send Interns to MCDS:
| | |
| --- | --- |
| Loyola College, Chennai | BCM College, Kottayam, Kerala |
| Stella Maris College, Chennai | Rajagiri College, Kottayam, Kerala |
| Madras Christian College, Chennai | Central University, Kasargod, Kerala |
| Madras as School of Social Work, Chennai | St Thomas College, Thirssur |
| D G Vaishnav College, Chennai | Loyola College, Trivandrum |
| Hindustan College of Arts & Science, Chennai | Tata Institute of Social Work, Mumbai |
| Mar Gregorious College, Chennai | Rostrevor College, Adelaide, Australia |
| Vivekananda College, Chennai | University of Waikato, New Zealand |
| St. Joseph's College, Pilathara, Kannur, Kerala | Individuals from Germany, Africa, Singapore, Australia, England, USA etc. |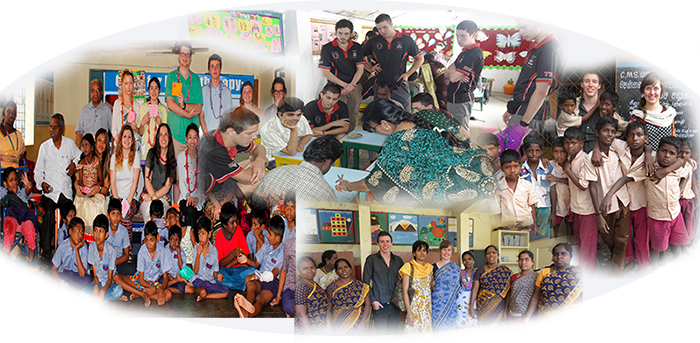 Interns/Volunteers in various areas of service
What is MCDS?
MCDS, expanded as MONTFORT COMMUNITY DEVELOPMENT SOCIETY is a humble, but sincere attempt, to follow the footsteps of Saint Montfort, the Founder of the Congregation of 'Montfort Brothers of St. Gabriel'. He equated the service of God, with Service of man, particularly, the poor and the disabled. It is an Integrated Community Development Programme reaching out to thousands of downtrodden and marginalized in the slums of Chennai and slum relocated areas situated in Kanchipuram District. Started as a Centre for the Mentally Challenged by late Rev. Bro. Gerard Patrick in 1996, it moved into Women Empowerment through Self-Help-Groups (SHGs), Community Health related programs, Eradication of Child Labor through Study Centres and a forum for Senior Citizens. MCDS now manages four centres for the Mentally Challenged. After the demise of Bro. Patrick in April 2015, MCDS is now managed by Rev. Bros. Joseph Louis and Mathew Kuplicat assisted by a team of dedicated staff.
Areas Covered
1. Four Special Children Centres:
CBR(Community Based Rehabilitation) for Children with Disabilities - We have 90 of them who are with us from 9.30 am to 4.30pm. In addition to daily care, they are given training in, Yoga, Physiotherapy, Vocational Skills, Dance Therapy and Occupational Skills. They are also given training in Speech, Activities of daily living, intellectual growth aimed at admitting potential candidates to regular schools and social interaction through games and outing for their adaptation and integration into society. Parents are kept involved through Monthly Meetings and disability Awareness Programs specially designed for them.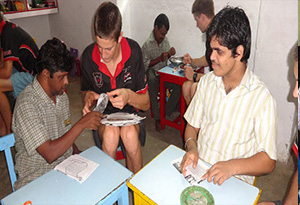 Volunteers one with Special Kids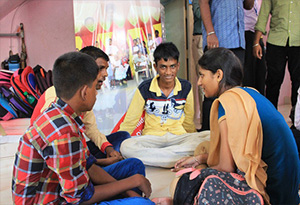 Interns interacting with Special Children
2. Three Community based Senior Citizen Centres
It helps them to spent meaningful/Cheerful and stress relieving two hours with activities like storytelling, news readings, yoga and other exercises, indoor games and group dance practice etc.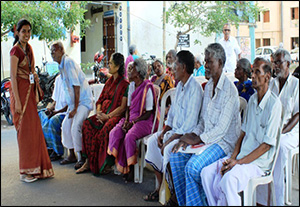 Interns with Elders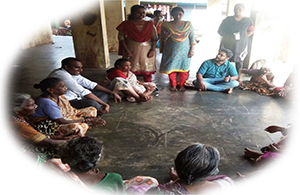 Elders activities
3. Study Centres:
Thirteen Evening Study Centres we organize at different locations of various slums of Chennai and Slum Relocated areas help prevent Child Labor. Classes are conducted during evening hours revising the subjects and engaging them in various co-curricular activities so as to motivate them and bring out their hidden talents. Thus they are encouraged to excel in their education and thus prevent dropping out and consequently become Child Laborer.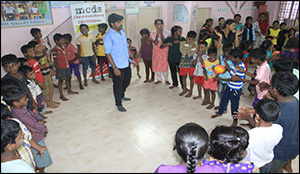 Study Centre Students have fun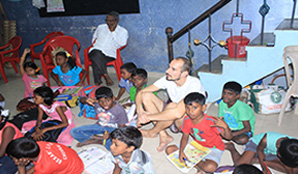 One with Students
4. Clinic on Wheels & Health Camps:
On all working days we have a full time Experienced Doctor, a Nurse and the driver visit various slum and schools on regular basis to check up and dispense medicines free of cost. On Fridays and Saturdays, in addition to the Clinic on Wheels, Medical camps/screenings in Eye, Dental, Cancer, TB as well as Camps on Health and Hygiene are organized. Over 25000 patients benefit by our 'Clinic on Wheels' and over 15000 benefit through various 'Screening Camps' annually.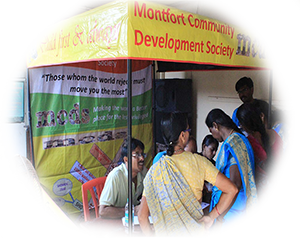 Registering at the Medical Camp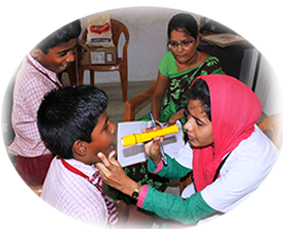 Volunteers at Dental Camp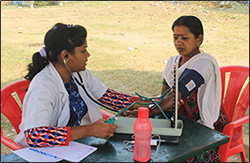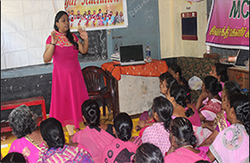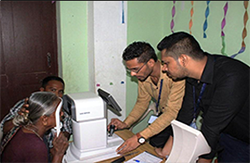 Interns from various Medical Colleges
5. Youth Empowerment
School Drop-outs are assisted to be brought to the main stream. The youth who have discontinued their studies are helped to clear their 10th/12th examination with the help of our Open School system.We have three such centres to help these youth enabling them to reach the mainstream.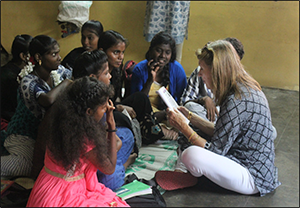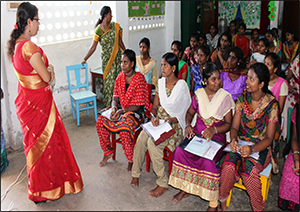 Assisting Youth with English


6. Women Empowerment
Our SHG groups are present at 11 different Slum areas and each area consists of an average of 200 women registered to our MCDS SHG groups. Several Groups in a particular area is called a 'Federation'. They are assisted to get bank loans to start their own entrepreneurship. They serve as our entry point to the locality to reach out to the needy of the area. These SHG groups help us to organize Medical and Health Camps in their locality on Fridays & Saturdays.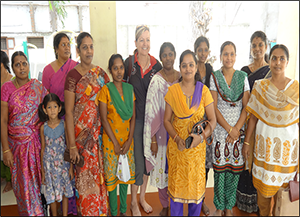 Self Help Group (SHGs) of MCDS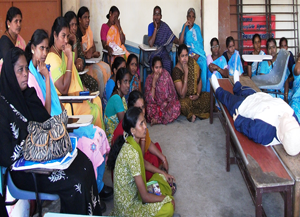 First Aid Demonstration by interns
MCDS Organizing Style of 'Interns/Volunteers programme'
Day 1 - Orientation and briefing of MCDS through Power point Presentation and personal interviews.
Days 2- 4 – Exposure to all the areas of MCDS operation so as to choose the areas of interest for volunteering and research.
Subsequent days - In depth experience/Research on the areas that the candidate/volunteer wishes.
Possible package for Intern/Research - 10 weeks/6 weeks/4 weeks
From Monday – Saturday, Field work/Research in Areas of interest(Learning and Experiencing of Ground realities of downtrodden and the marginalized).
Optional Possibilities: We can assist and organize exploration of Chennai and Surrounding areas of tourist interest such as Pondhicherry, Mahabalipuram, Crocodile Farm, St Thomas Mount, Little Mount, Santhome, Marina Beach, Besant Nagar Beach, Vandalur Zoo etc.
Package Tour Proposal After Intership
Two weeks/one week tour to Kerala "God's Own Country":
Places Covered:
Munnar, Thekkady, Vagamon, Idukki Dam, Kumili, Kodaikanal, Alleppey, Kovalam, Trivandrum…etc.
This package include Travel, Food and Accommodation.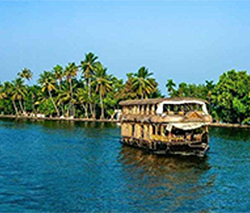 Backwaters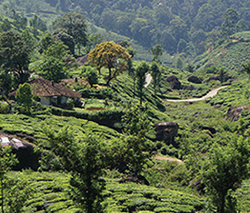 Munnar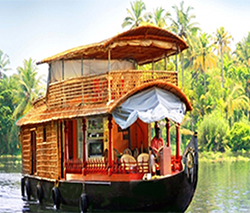 Boat House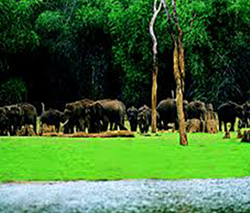 Thekkadi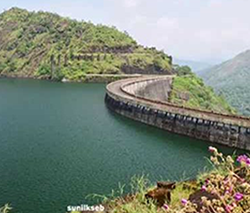 Archaddam - Idukki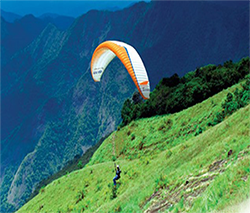 Vagamon